Scinetology is sponsoring its own NASCAR team through the book "Dianetics," a tome written by its religious prophet L. Ron Hubbard. Scientology's team will have its first race Saturday at a NASCAR Weekly Series at California's Irwindale Speedway reports the New York Post.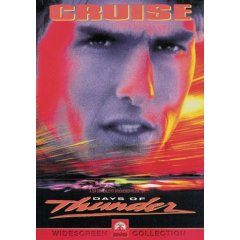 Could this be the build up for a remake of "Days of Thunder," the not so successful movie starring Scientology's "Top Gun" Tom Cruise in the role of a fictional NASCAR stud?
It was through Thunder that the actor now known more for strange behavior than his movies met his future bride Nicole Kidman.
But that was more than a decade ago and since then both Cruise's marriage to Kidman and his public image have fizzled.
"Couch potatoes meet couch jumper as Scientology goes NASCAR," quips one fan on Inside Line.
And what will Scientology use to speed to the finish line?
A Ford Taurus that says "Dianetics" on it and "has a volcano on the front of it like the book" says a spokesperson.
The Volcano is an allusion to L. Ron Hubbard's religious doctrine about space aliens that were destroyed in volcanoes 75 million years ago and somehow are still haunting us and causing problems. 
The driver of this Taurus is apparently a Scientologist. He told the press that Hubbard's teachings have "improved [his] focus and…consistency."
Sportswriter Matt Crossman says "that nobody has ever heard of the driver."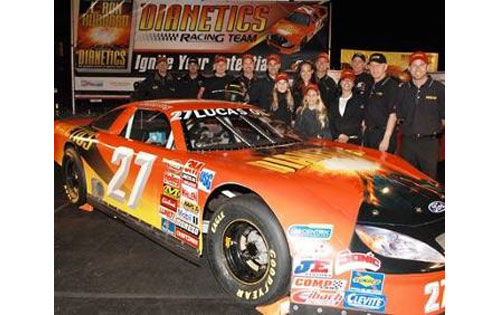 Crossman also opines at Sporting News.com that he is "confident" that Dianetics will "fail miserably as a sponsor because it has no audience to speak to. Bud is in the sport because race fans drink beer."
Basically what Crossman is saying is that Scientology would be better off offering coupons for free beer than its "free personality test" to NASCAR fans.
The sprotswriter also observes that NASCAR "fans are overwhelmingly Christian" and unlikely targets for any Scientology recruitment effort. And he thinks that only "The North Korean Army" could top Scientology as the "worst possible sponsor."
So where does that leave "Dianetics" and this seemingly ill conceived public relations effort?
Probably somewhere behind the PR disaster spun by Tom Cruise to use Steven Spielberg's film "War of World's" to launch his own war of words promoting the controversial church and its ideas.