Mahesh Prasad Varma, better known as "Maharishi Mahesh Yogi," was born near the Indian town of Jabalpur, into a scribe caste family. He died last night at the age of 91.
At times referred to as a "cult leader," one BBC website called him a "Rasputinesque" figure.
The Indian guru promoted "Transcendental meditation," known as TM to its fans and followers. This practice involves reciting a mantra over and over again to still the mind.
However, TM critics saw the technique as little more than self-hypnosis or trance induction.
Classes to learn TM don't come cheap. The current list price is $2,500 for a five-day session.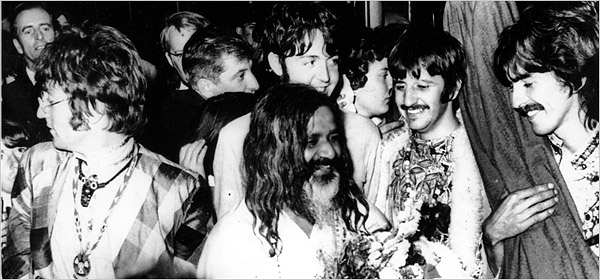 Mahrishi launched his public career as the "Beatles guru." In 1968 the British group journeyed to his Himalayan ashram to study.
But it wasn't long before the popular band dumped their would-be teacher.
John Lennon felt that Maharishi's claim to celibacy was a lie. Lennon said in interviews that the Beatles song "Sexy Sadie," which includes the lyrics "Sexy Sadie, what have you done, you made a fool of everyone" was originally called "Maharishi."
This year on January 11th the guru announced his retirement, but apparently he was already quite ill and died in less than a month.
Maharishi and his followers often made ridiculous claims regarding the power of TM, such as a mass meditation session of 7,000 followers somehow being linked to the fall of the Berlin wall and the end of the Cold War.
Maharishi's mantra almost always included money.
The TM Web site states, "When the group cannot be maintained financially, new tensions arise in the world." Such statements almost seem like spiritual blackmail.
Perhaps Maharishi will be most remembered for his shrewd business sense. He leaves behind the legacy of a multi-billion dollar spiritual empire.
Britain's Daily Telegraph reported that TM has been marketed "with all the zeal of a multinational corporation — which is, effectively, what it became."
In 1990 Maharishi moved to the Netherlands where he turned a historic former Catholic retreat into his home. The guru created considerable controversy when he attempted to demolish the landmark to suit his own taste.
One of Maharishi's last fund raising pitches took place in 2002. The guru claimed he wanted to combat world terrorism and war through meditation.
The price tag this time was $1 billion dollars to train 40,000 TMers.
In the United States alone TM accumulated assets of about $300 million, including Maharishi University in Iowa.
Many of the guru's remaining devotees live in Maharishi Vedic City, which is located a few miles from Fairfield, Iowa.
Maharishi may have been one of world's most successful "cult leaders."
That is, if measured by money, rather than mantras.