A new book has been released about the business, religious, media and political empire constructed by Rev. Sun Myung Moon, designated "messiah" and leader of the Unification Church.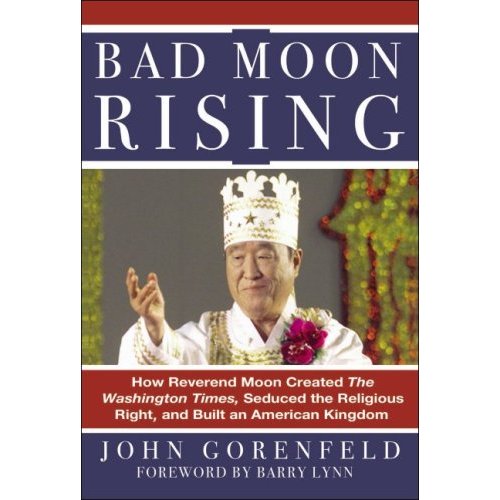 Bad Moon Rising: How Reverend Moon Created the Washington Times, Seduced the Religious Right and Built an American Kingdom by John Gorenfeld published by Polipoint Press was released March 1, 2008, and is now available at Amazon.com.
Gorenfeld says:
"Years ago, Moon was widely considered a dangerous madman, like Jim Jones or L. Ron Hubbard, the inspiration for TV specials with names like 'Escape From The Moonies.' His group was notorious for prying young people from families, persuading them to sell flowers to pay for Moon's mansions and yacht, and marrying them to strangers as a show of domination. Not only is he still around, but he is richer and more influential than ever."
CultNews has often been asked, "Whatever happened to the Moonies?" As if the purported "cult" had suddenly disappeared after becoming marginalized and insignificant.
But as Gorenfeld reveals Rev. Moon instead became a multi-billionaire and a formidable fixture in American politics, who exerts his influence through media assets such as the Washington Times and United Press International (UPI).

The Bush family in particular has forged friendly ties to the would-be messiah, who has donated to their political campaigns, presidential libraries, pet charities–not to mention handing out generous honorariums for speaking engagements.
President George H. Bush has reportedly made millions on Moon's lucrative lecture circuit.
At one time "Moonie" David Caprara ran the so-called "faith-based initiative" from an office in the White House.
The growing political influence of Moon reaches even into the UN, where his long-time devotee Josette Sheeran is now heading the UN World Food Program.
Neil Bush, younger brother of George W. Bush, just days ago called upon Paraguay's president courtesy of a business federation founded by the Rev. Moon, reported Associated Press.
Gorenfeld's book reveals how Moon's influence crept from the fringes of America into the mainstream of American politics.