What a difference a week makes.
NXIVM devotee and would be event planner Clare Bronfman told the Albany Student Press a little more than a week ago that the Dalai Lama of Tibet had "spent an entire year vetting" her organization, the so-called "World Ethical Humanitarian Foundations Consortium" (WEHFC) and given all "the research" he had done was "still coming" to Albany for a series of events sponsored by the group despite growing controversy.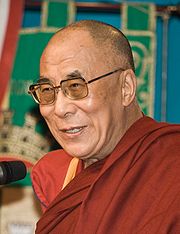 However, only days later it was reported that the Dalai Lama (photo right) had changed his mind and dumped the planned program altogether. A date for the event strangely never appeared on his official online calendar of scheduled appearances.
According to the Albany Times-Union His Holiness didn't appreciate all the "negative publicity connected to the sponsoring organization."
The WEHFC seems to be little more than a thinly veiled front group for Keith Raniere; a failed multi-level marketing guru named "Vanguard" by NXIVM devotees.
Raniere is the "conceptual founder" of both WEHFC and NXIVM, which is a for-profit enterprise, largely devoted to selling training seminars called "intensives."
Critics have called the business a "cult" and noted mental health experts have critiqued its trainings, comparing the underlying methodology to "thought reform," commonly called "brainwashing."
A scathing editorial that appeared in the Schenectady Gazette read, "Keith Raniere has been involved in controversy for the last 20 years. He has been the subject of lawsuits and investigations…He is hardly a poster boy for humanitarianism, peace and ethics; and his invitation to the Dalai Lama to speak at the inaugural event of The World Ethical Foundations Consortium, which Raniere recently founded, makes one question the motive of the invitation."
The same editorial also noted, "In 2003, Keith Raniere roped actress Goldie Hawn into speaking at Vanguard Week, an annual NXIVM event. When Hawn learned about the controversies surrounding Raniere, NXIVM and ESP, she canceled her appearance."
The Schenectady Gazette editorial then concluded, "If Goldie Hawn has the sense not to appear at an event sponsored by Keith Raniere, then cancellation by the Dalai Lama…should be a no-brainer."
Well, it may have taken some time for His Holiness to sort through the "research," but ultimately the Dalai Lama did decide not to appear in Albany with and/or associated tangentially to Keith Raniere.
His Holiness sadly found himself in an increasingly awkward and embarrassing situation.
The Dalai Lama of Tibet, who is frequently featured as an honored speaker at some of the most prestigious universities across the United States and around the world, was not being officially hosted by any school in the Albany area for the WEHFC events.
The Albany Times-Union reported that despite the stature of the religious leader and Nobel Peace Prize winner, no school in the area was willing to put its name on the line as an official host for any event associated with WEHFC/Raniere.
Skidmore College and RPI both rejected bids by WEHFC to provide a venue.
An RPI spokesperson explained, "While we have the highest respect for the Dalai Lama and his teachings, we chose not to accept the invitation based on a variety of considerations."
"Considerations"?
The University of Albany finally agreed to rent out some space, but only with the explicit understanding and precondition that "NXIVM and the organization [WEHFC] were not going to have any part with dealing with…students, or advertising or recruiting…on campus," according to UAlbany's vice president for development.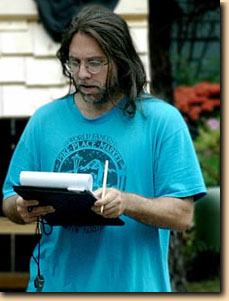 It seems that Keith Raniere (photo left) hoped that somehow through the Dalai Lama's visit to Albany he would be able to establish his significance, that is outside of his devotees within NXIVM.
Raniere, who is a physically small man, appears to posses an oversized ego, which includes a penchant for grandiose claims.
Mr. Raniere states through his online bio that he is a "scientist, mathematician, philosopher, entrepreneur, educator, inventor and author" who "from early childhood¦demonstrated astounding gifts." The bio then boasts a long list of alleged accomplishments, from becoming a "judo champion at age of 11³ to somehow managing to be recorded as the "highest IQ."
Well, now Keith Raniere can add the dubious distinction of being dumped by the Dalai Lama of Tibet to his list of proclaimed accomplishments.
Some in Albany must be deeply embarrassed by this turn of events, including Albany Mayor Gerald Jennings, who appeared at a news conference with Clare Bronfman to endorse the planned program personally, declaring it a "historic event."
Maybe the mayor could use some Nexium, not the training provided by the purported "cult" group, but rather the advertised purple antacid pill.
According to the WEHFC Web site there may be more than enough embarrassment to go around. The group touts the support of Archbishop Desmond Tutu and Sir Richard Branson, along with Mayor Jennings.
Most embarrassed must be Lama Tenzin Dhonden, who is the "Personal Emissary for Peace to His Holiness the Dalai Lama." He apparently was instrumental in setting up the now canceled visit to Albany.
The lama is quoted to have said, "The ethical tools developed by Keith Raniere" are a portion of "the essential ingredients to transform our society."
Look for this lama to be reassigned soon.
At this juncture it seems that Keith Raniere's primary remaining and significant claim to fame may just be that he has convinced two heirs to the Seagram fortune, Clare and Sara Bronfman, to support him. And given their substantial resources he can manage to at least soldier on financially, maybe not on the world stage, but as NXIVM's vaunted "Vanguard" starring in his own self-contained and "conceptualized" productions.
However, if the Bronfmans ever decide to follow the Dalai Lama's example and dump him, it may be curtain time for Mr. Raniere.
Postscript: Chet Hardin of Metroland recently reported that NXIVM leader Keith Raniere (aka "Vanguard") now claims that the Dalai Lama will visit Albany on "May 6, 2009." Raniere also wrote Hardin April 13th in an email that he is "thankful for the support of His Holiness" and concluded, "additional details will be available in the next few days." However, nothing about an Albany visit appears on the Dalai Lama's official calendar. His Holiness does have a public talk scheduled in New York City on May 3rd and a teaching on the 4th, but no announcement appears about any trip being planned to Albany.  Is this just another example of Vanguard's "conceptualizing," or what some might label wishful thinking?
Endnote: Two days after Keith Raniere's email to Chet Hardin about a May visit in Albany by the Dalai Lama of Tibet, an addition appeared on His Holiness' Web site calendar. It reads that he will give "a public talk on The Need for Spirituality in the 21st Century at the Albany Palace Theater." However, unlike other public events announced on his Web site, no sponsoring organization and/or contact link is offered or even mentioned. The Albany Palace Theater doesn't have the event listed on its calender yet, but apparently there is an opening May 6th at the venue, between the showings of classic films ("The Sound of Music" and "Shane") and a performance by the Albany Symphony Orchestra.
Final Note: The Albany Times-Union has also confirmed that the Dalai Lama will visit Albany on May 6th, but reports that an emailed announcement from the Dalai Lama's representative "did not mention by name the World Ethical Foundations Consortium, which is an initiative of the Ethical Humanitarian Foundation," the previous sponsoring organization with ties to Keith Raniere. The newspaper also reported that NXIVM devotee Clare Bronfman "asked Times Union Center general manager Bob Belber if the arena was available May 6, without specifying for what…Belber informed her the arena was booked that night (by the Ringling Bros. and Barnum & Bailey Circus) and suggested she contact Palace Theatre general manager Chris Gould."
Update: It's official, the Dalai Lama of Tibet has openly acknowledged the connection between himself and Keith Raniere's so-called "World Ethical Foundations Consortium." At the Dalai Lama's official Web site there is now a link to the NXIVM leader's group, for "contact" information regarding his scheduled public speaking event in Albany.