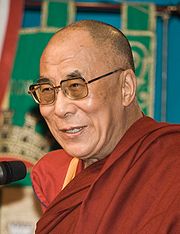 It's official, the Dalai Lama of Tibet (photo left) is coming to Albany, New York for a one-night appearance on May 6th, sponsored by an organization with ties to failed multi-level marketing guru Keith Raniere, a purported "cult" leader.
CultNews previously reported that his Holiness had backed out of a series of commitments made to the so-called "World Ethical Humanitarian Foundations Consortium" (WEHFC), which is the "conceptual" creation of Raniere, known to NXIVM devotees as "Vanguard."
According to the Albany Times-Union the last communication received from His Holiness stated that all the "negative publicity connected to the sponsoring organization" concerned him, and for that reason he had decided to dump the plans previously made with Mr. Raniere's followers.
Never mind.
Now, despite all the bad press and controversy surrounding Keith Raniere, the Dalai Lama has changed his mind again. And this time he has officially recognized the sponsoring organization by linking to it from his online official calendar.
Raniere recently gushed in an email that he is "thankful for the support of His Holiness" and added "details [would soon] be available."
Those details remain a bit sketchy, but it appears that the Dalai Lama event has been moved from the Albany Times-Union Center to the much smaller Albany Palace Theater.
No panel discussions or other related events have been announced, just a one-night solo appearance by the Dalai Lama.
Will Raniere somehow manage to share the stage with the respected religious leader?
Or will His Holiness be introduced by Clare and/or Sara Bronfman, heirs to the Seagram fortune?
Both Bronfmans are event organizing committee members.
Will there be private meetings outside of the lecture with the Dalai Lama, that include photo opportunities?
Lama Tenzin Dhonden, who is both on the event organizing committee and the "Personal Emissary for Peace to His Holiness the Dalai Lama" has reportedly said, "The ethical tools developed by Keith Raniere" are a portion of "the essential ingredients to transform our society."
Those "tools" are for sale through NXIVM training seminars. No doubt the Dalai Lama's seeming endorsement will be good for business.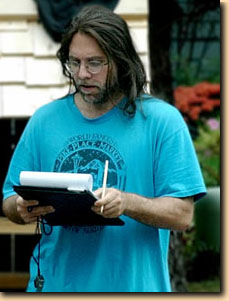 However, Keith Raniere's (photo right) training techniques have been seriously questioned, as can be seen from the reports done by two well-respected doctors, who have critiqued NXIVM training.
See the following:
"A Forensic Psychiatrist Evaluates ESP"
"A Critical Analysis of Executive Success Programs Inc."
"Robert Jay Lifton's eight criteria of thought reform as applied to the Executive Success Programs"
Some former NXIVM students have sought psychiatric treatment, one was hospitalized, another walked out of an "intensive" in Alaska and committed suicide.
Never mind.
According to Clare Bronfman the Dalai Lama already knows about all this.
Ms. Bronfman told the Albany Times-Union that His Holiness and his people had "spent an entire year vetting" those responsible for sponsoring the coming event.
Why would the Dalai Lama of Tibet go along with Keith Raniere, after having done the alleged "research"?
Was the religious leader impressed by Mr. Raniere's online bio, which states that he is a "scientist, mathematician, philosopher, entrepreneur, educator, inventor and author" who "from early childhood¦demonstrated astounding gifts"?
Raniere's bio then goes on to boast a long list of supposed accomplishments, from becoming a "judo champion at age of 11³ to somehow managing to be recorded as the "highest IQ."
Maybe His Holiness believes that Raniere is the reincarnation of Leonardo Da Vinci or Einstein?
Did the Dalai Lama ever take the time to read the editorial run by the Schenectady Gazette? It said, "Keith Raniere has been involved in controversy for the last 20 years. He has been the subject of lawsuits and investigations¦He is hardly a poster boy for humanitarianism, peace and ethics…"
Perhaps His Holiness was impressed when he learned that two of the most well-known schools in upstate New York, Skidmore and RPI, refused to provide space on campus for an event connected to Mr. Raniere? And when a third school, the University of Albany, did agree to rent space out, it was only with certain preconditions regarding any potential NXIVM related recruiting activities.
Not exactly a ringing endorsement from the ranks of higher education for either Keith Raniere, NXIVM or the WEHFC.
Never mind.
Maybe what matters most, per an earlier news report, is that after all the costs of the coming event are paid "anything extra the Dalai Lama can donate to the charity of his choice."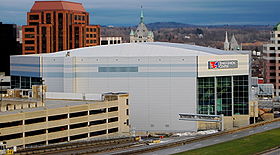 Tickets were priced at "$52, $82 and $112³ at the Albany Times-Union Center (photo left), and with a maximum seating capacity of 17,500, that could have potentially pulled in more than a million dollars if the venue sold out.
But now the one-night lecture will take place in the much smaller Albany Palace Theater (photo below right), where a full-house only adds up to 2,800.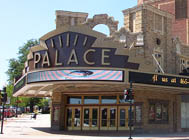 Is money what the Dalai Lama is meditating about?
Is it possible thats His Holiness actually believes that Keith Raniere is the genuine "vanguard" of some important new movement or revelation?
Is he the reincarnation of an ancient prophet?
Or could it be that the wealthy Bronfmans and/or other rich NXIVM devotees have passed the hat for a big contribution to profit "the charity of his choice"?
If so, it wouldn't be the first time that the Dalai Lama has received a large gift from a purported "cult."

Chizuo Matsumoto known to his followers as "Shoko Asahara" founder of Aum, the Japanese cult responsible for gassing the Tokyo subway system in 1995, reportedly donated $1.2 million dollars to His Holiness and subsequently seemed to be rewarded through several high-level meetings and photo opportunities (see photo left) with the Dalai Lama.
And according to a biography of Asahara, after the Japanese guru was arrested for the terrorist attack that sent thousands of Tokyo citizens to hospitals killing 12, the Dalai Lama referred to Asahara as his "friend, albeit an imperfect one."
Later His Holiness distanced himself from the imprisoned criminal.
Asahara is currently sentenced to death for murder and awaiting execution.
The Schenectady Gazette editorial noted,  "In 2003, Keith Raniere roped actress Goldie Hawn into speaking at Vanguard Week, an annual NXIVM event. When Hawn learned about the controversies surrounding Raniere, NXIVM and ESP, she canceled her appearance…If Goldie Hawn has the sense not to appear at an event sponsored by Keith Raniere, then cancellation by the Dalai Lama¦should be a no-brainer."
Celebrities like Goldie Hawn routinely receive $25,000, $50,00 or more for such a single paid appearance.
Has the Dalai Lama of Tibet sold out at the Albany Palace Theater?
Postscript: The Albany Times-Union has reported that NXIVM devotees traveled to India, in an effort to convince the exiled Dalai Lama of Tibet that he should change his mind again about coming to Albany as their "honored guest."  A spokesperson for His Holiness says that because of the Dalai Lama's commitment "to supporting the expression of worthy ideals….he has agreed to visit Albany on May 6th." When questioned about any financial incentive connected to the visit the spokesperson said that whatever money was received would be "used for charitable and other purposes as per His Holiness' guidance."
Endnote: Tickets on sale for the Dalai Lama lecture cost $55 to $85 per person. If the 2,800 seat theater sells out His Holiness could potentially walk away with more than $100,00 for his one-night appearance.