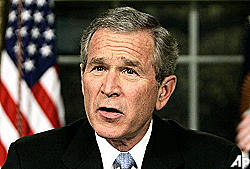 President George W. Bush presented a Volunteer Service Award to a graduate of the controversial mass marathon training group called Landmark Education (LE).
25-year-old Erin Green picked up her award personally from President Bush in Chicago. Green does volunteer work through the Boys and Girls Club. And she said this was "inspired" by a LE "leadership course."
Landmark Education, which is a for-profit privately, owned company is in the business of selling such courses, essentially concocted by a 1970s seminar guru and former used car salesman, named Werner Erhard.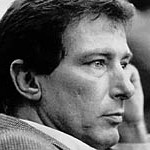 LE uses volunteers for much of its own in-house work-for-free labor force and Ms. Green's volunteer work for the Boys and Girls Club is part of a long-running and ongoing public relations campaign.
Paying customers of LE, in what can be seen as a ploy for free advertising to promote its sales, are encouraged or "inspired" to go out and volunteer within their respective communities garnering attention and giving credit to Landmark.
"In Landmark Education programs, I realized that one person really can make a difference," Green gushed in a prepared press release that reads more like an infomercial.
While the LE-linked volunteers do good work for no pay, the company that is the impetus behind that work is likely to make some money through increased sales from the free publicity.
Typically stories about such volunteers and their LE "homework assignments" are written up in local newspapers, but this time Green getting an award from the President of the United States was like hitting the PR jackpot.
It's doubtful President Bush knew that LE is reportedly known for "mind games" and "Soul Training," culminating in something of a "Drive-thru Deliverance."
Instead, he probably was told "Landmark Education is committed to the fundamental principle that people have the possibility of success, fulfillment, and greatness," as a spokesperson stated within its news release.
However, Self Magazine wasn't quite so glowing, but rather once relegated the company to the category of "white collar cults where personal growth' means brainwashing."
Ms. Green has successfully done her homework for Landmark, while President Bush may have unwittingly just been worked.