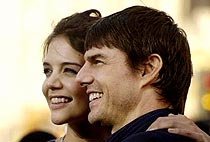 While former good girl Katie Holmes reportedly plans to marry Tom Cruise after having his baby (as told to Ellen DeGeneres) and continue her Scientology education while apparently distancing herself from Catholicism, her boyfriend's last wife is doing just the opposite.
Nicole Kidman apparently has ended her days "dabbling" with Scientology and now wants to be married as a Roman Catholic reports Life Style Extra. The only consistency in this twisted tale is that whoever gets Tom Cruise must take on Scientology too.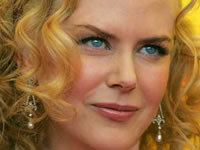 No one knows the exact details about the last Cruise marital meltdown, but some suspect that as Kidman cooled to Scientology, Cruise cooled to Kidman.
The Holmes family would probably like to know all the fine details considering their daughter's present condition and impending marriage.
However, a probable confidentiality agreement was likely one part of the bargain Kidman made in her final divorce deal, so neither the public nor Cruise's future in-laws are likely to find out easily.
Instead, Katie Holmes and her family are likely to learn the hard way.