A source has told the press the "relationship" between Tom Cruise and Katie Holmes is basically over" and added, "They both agreed that the marriage wouldn't work and they wanted to end it before they learned to hate each other" reports the Boston Herald.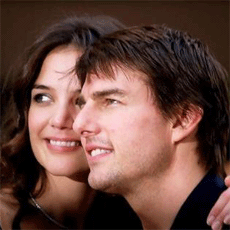 Have the days of the duo known as "TomKat" ended?
Supposedly a source says Holmes now has her own bedroom within Cruise's Beverly Hills mansion and legal papers are already being drawn up to spell out the terms of their split and custody of Katie's unborn child.
"The story is 100% false" proclaimed Cruise's official spokesperson.
But in Hollywood such denials are often only the preview for marital and partnership breakdowns. And this relationship has been rather strange and/or strained from the beginning.
Has Katie Holmes conservative Catholic family finally weighed in?
Persistent rumors have circulated that the Holmes household is not happy that daughter Katie is planning to give birth as an unwed mother. Her father also reportedly is none too thrilled with Tom Cruise's Sci-fi religion.
But despite the bad news circulating about him Scientology's "Top Gun" was out partying.
Cruise was spotted at a LA concert venue and some of those attending said that the star was acting strangely.
Instead of his celebrated couch jumping this time it was balcony dangling and cable climbing reports Jeanette Walls for MSNBC.
One glib spectator summarized the scene saying the star "went nuts."
Ever the crusading missionary Cruise also reportedly worked the crowd preaching for his church.
"Not true," said the superstar's probably overworked spokesperson once again.
So is Tom cruising into a nervous breakdown over another failed romance?
Despite a new spokesperson that replaced his sister, the middle aged man often called the "world's biggest movie star," continues to prove he can't maintain that past perceived persona as a Hollywood good guy.
Whatever the truth is about "TomKat" its doubtful that the public image of Tom Cruise will ever be restored.
Increasingly, the superstar just seems to be getting stranger and stranger.
Did that make 27-year-old Katie Holmes head for the proverbial Hollywood Hills baby and all?