Dr. Deepak Chopra recently has done "a guest editor stint for the Times of India" reports Starpulse and he has supposedly "exploded the myth" about the Beatles breakup with their 1960s guru Maharishi Mahesh Yogi.
According to the good doctor Maharishi, the founder of Transcendental Meditation, "simply grew tired of the Fab Four's drug use."
The guru also didn't really fool around with Mia Farrow as repeatedly rumored.
How does Chopra know?
Well, he bumped into the actress at an airport and she allegedly said, "she still loved" Maharishi.
Wow, isn't that explosive?
Then there is yet another story about how George Harrison actually apologized to his former guru who then "forgave" him.
Touching isn't it?
Again and again, readers just have to take the doctor's word for it, since Harrison and John Lennon are gone and Paul McCartney appears disinterested.
But the consistent pattern to Chopra's stories is that Maharishi is always right.
At no point does he in any way criticize his mentor or relate anything that the guru may have done wrong.
Doctor Deepak's anecdotes were published by the Times of India, which afforded no less than two complete articles allowing him to essentially trash the Beatles and praise his guru.
One of these puff pieces is titled "Beatles are angels on earth, said Maharishi" and the other "When Maharishi threw Beatles out."
Why were the Beatles "angels"?
Well, because Maharishi said so.
But they were bad little cherubs that had to be cast out of the guru's heavenly kingdom.
At least that's what Chopra wants readers to believe.
John Lennon told Johnny Carson a different story on the Tonight Show. He said that the supposed "holy man" was actually more like a "dirty old man." And the revered rocker even wrote a satirical song mocking Maharishi called "Sexy Sadie."
During the 1960s the guru that would one day go global used his association with the Beatles to launch a career that would eventually make him richer than all of them put together. The supposedly enlightened CEO rules over a religious empire estimated to be worth billions.
Chopra remains his steadfast and loyal disciple, despite all the bad press. And it appears that the medical doctor has also become Maharishi's very own "spin doctor."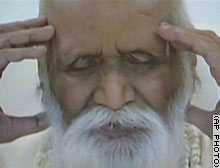 Given the way Chopra has marketed himself, maybe he is after all just a "chip off the old block."
And perhaps that chip wants a "piece of the rock" when the old guru passes away, after all Maharishi is now 89.
Who better than Deepak Chopra to take up or take over his substantial legacy?
Maybe there is a deal in the works?
Despite Maharishi's advanced age the old guru remains a tireless self-promoter who comes up with one project after another, which almost always require copious amounts of cash for his corporate coffers to be fulfilled.
CutNews recently reported about his rather expensive "peace plans" and the Associated Press titled an article about him "All you need is love…and some cash," an allusion to the Beatles hit somewhat modified to fit Maharishi's style.
And the Worcester Telegram & Gazette reported about the millions he says must be raised to build a new school.
In the end one thing is certain, Maharishi is no "Fool On The Hill."