Ever wonder what happened to the Japanese cult leader responsible for gassing thousands of Tokyo subway riders in 1994?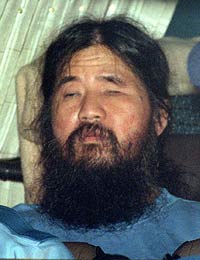 Well it has been more than a decade and Shoko Asahara, convicted of murder and sentenced to death, is still taking up cell space in his own very special quiet way.
The once all-powerful and outspoken cult leader now just mumbles incoherently, makes bizarre gestures and wets himself.
His lawyers say Asahara was "unfit for trial" and they keep demanding more definitive psychiatric tests.
However, the Japanese courts have ruled otherwise and declared the guru "fit for trial" reports Ireland On-line.
"He's incapable of any form of communication whatsoever," says a psychopathology expert that visited Asahara in prison.
Apparently he suffers from "stress" brought on by "confinement."
His lawyers shouldn't expect any sympathy though from the Japanese courts or the public. Asahara is responsible for the murder of twelve subway riders and the injuries of thousands rushed to hospitals for emergency care.
Once the grand master that controlled a financial empire and ruled as a tyrant over an estimated 40,000 followers this self-proclaimed messiah can't seem to adjust to the reality of life as a mere mortal supervised by prison authorities.
It's no great shock though that Asahara has ultimately proven to be as crazy as other cult leaders from the past.
However, unlike Jim Jones, David Koresh, Luc Joret, Marshall Applewhite, or Joseph Kibwetere, Asahara decided not to do himself in when his luck ran out.
Instead he hid hoping to somehow get away with his crimes.
Now forced to face a life without the trappings of his former glory Asahara has shut down and shut out the world around him.  
In the end a living example of what makes cult leaders tick and often ultimately unwind.