Mel Gibson's "Passion of the Christ" reportedly netted him more than $70 million dollars, largely because of the cult-like devotion the savvy director/producer cultivated for his film amongst evangelical Christians and its timely release for Easter. Is it possible that "The Da Vinci Code" could experience the same phenomenon only somewhat reversed?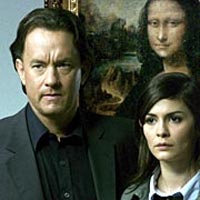 The film based upon the Dan Brown book that sold more than 50 million copies to become something of a cultural and publishing phenomenon is based largely upon the "Gnostic Gospels," which are considered "heretical to evangelicals and many other Christians. And thus the "Da Vinci Code" relates something less than the supernatural Christ depicted in Gibson's film.
But it seems that the controversy surrounding this unorthodox religious movie may have built interest in the film much like the controversy that preceded Mel's Gibson's Jesus movie. According to Sony Pictures the Ron Howard film starring Tom Hanks has pulled in $224 million on its first weekend worldwide reports Associated Press.
Both "The Passion of the Christ" and "The Da Vinci Code" received less than glowing critical reviews. And both projects garnered the response that they were spurious, Gibson's for its anti-Semitic content and Howard's for its heresy.  
Could Ron Howard's creation catch up to Mel Gibson's, which grossed $370 million in the United States alone and more than $600 million worldwide?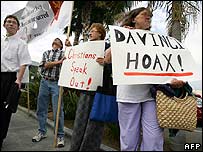 Both films seem to have a kind of cult-following of "true believers."
However, it seems doubtful that "The Da Vinci Code" can equal Mel Gibson's 2004 box office take, though it will undoubtedly be a major moneymaker for Sony this summer.
In fact, Sony is already considering a sequel based upon Browns book titled "Angels and Demons" after the very successful first weekend of Da Vinci Code reports Coming Soon.net.