Now seems like a good time to sum up the net results of the "war of words" between television cartoon show South Park, Scientology and Tom Cruise.

Who won and who lost?
South Park recently picked up a Peabody Award and received an Emmy nomination specifically for the controversial episode that mocked the "world's biggest movie star" and Scientology, which is probably the most litigious organization called a "cult" on the planet.
Not only did South Park creators Trey Parker and Matt Stone ridicule Cruise and get away with it, they also accurately exposed Scientology's bizarre doctrines. This included a discourse about a belief in space aliens, something that the general public otherwise wouldn't know, considering the way that Scientology zealously guards its secrets.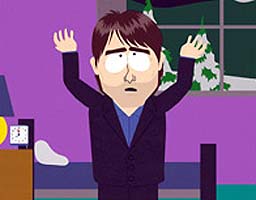 The cartoon episode "Trapped in the Closet" was carefully crafted to be legally "bullet proof" as a parody, so from the start Cruise and his church didn't have the basis for any serious claim of slander.
That's why the actor allegedly relied instead upon his star power to cancel a repeat of the controversial episode, which was set to launch South Park's current season.
Apparently, Scientology's "Top Gun" took his best shot through Viacom, the parent company of both Paramount, which produced Mission Impossible and Comedy Central that airs South Park.
However, this strategy backfired, only garnering more attention and publicity for the show while Cruise came across as a bully. South Park's ratings soared and arguably this confrontation paved the way for both the Peabody Award and Emmy nomination that followed.
"Trapped in the Closet" remains the biggest hit as measured by the viewing audience that South Park has ever recorded for a singe show.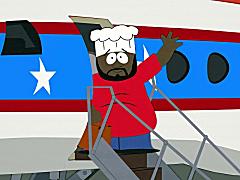 Scientologist Isaac Hayes, who quit South Park over the Scientology episode hasn't fared very well either. Like Cruise he didn't gain public sympathy through his protest and also lost his job.
Subsequently Parker and Stone got the last word regarding Hayes departure through a good-bye "Return of Chef" episode that portrayed the former 1970s star as little more than a "brainwashed" puppet.
Tom Cruise also appears to have lost ground.
The actor who hasn't had a genuine unqualified hit since Jerry McGuire and is now perceived by much of the public as a "weirdo." His Mission Impossible series is all but dead, with the latest installment doing less than expected at the box office.
Don't look for a "Mission Impossible Four."
In fact, some Hollywood pundits say it may be difficult for the middle-aged actor to star in a major film project budgeted at the same size as MP-3 in the future.
The public seems tired of Tom Cruise, other than as a focus of gossip about his relationship with Katie Holmes and their unseen baby girl Suri.
And Scientology seems to have become something of a running joke, seen more like a wacky "Hollywood cult," rather than a serious religion.
Whatever Tom Cruise and his church hoped to accomplish through the star's media blitz promoting Scientology solutions to life's problems, both he and his faith failed to convey any meaningful positive message that the public responded to, but don't expect them to admit that.
Trey Parker warned about getting "that Tom Cruise stink on you" in a recent interview, but there is nothing like the sweet smell of success.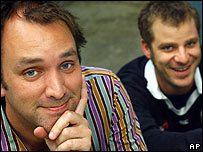 And South Park has never been more popular, while its creators have burnished their "cult hero" status through the face-off with the star, along with some official mainstream recognition that perhaps was long overdue.
The moral to this story is never take on a weekly comedy show like South Park in a "war of words," because the show will get the last word and also last laugh.
Demonstrating this pointedly will be the long awaited repeat tonight of "Trapped in the Closet."