Madonna was once so fond of Britney Spears she literally staged a kiss with her, but it seems that the young pop star's middle aged mentor has now decided to give her the "kiss off."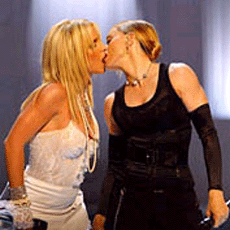 A source told Hot Stars magazine, "Madonna spent months teaching Britney the Kabbalah system, and splashed out thousands on the ancient scripture for her. She feels she has wasted time, money and precious gifts on Brit" reports Virgin.net. 
Sounds like the 48-year-old diva has a "one track mind" when it comes to mentoring and it's not about music.
Much like Tom Cruise dividing his time between movies and missionary work, Madonna has become a surrogate preacher for her teachers at the "Kabbalah Centre."
The 1980s pop queen seems to have an unquenchable thirst to be the center of attention and object of adoration, whether it's surrounded by paparazzi, on a concert tour or as the high priestess of a purported "cult."
But Spears has spurned Madonna's preaching.
"I no longer study Kabbalah, my baby is my religion," she said. And the singer is now consulting a "Christian Life Coach" to help her, and ditched the former "Material Girl's" spiritual advisors reports The National Ledger.
Given the repeated rumors that Madonna's own marriage is on the rocks, it looks like Ms. Spears made the right move by returning to more traditional values.
Last week a Jewish anti-missionary organization in Los Angeles blasted Madonna's mystical mentors reported The Jewish Journal.
Quipped Rabbi Bentzion Kravitz, "If Madonna can wear a T-shirt saying she's a cult member, who am I to argue with her"?
"To me, they're no different than…Jews for Jesus or Scientology. They're using the terminology to make themselves look Jewish, but they're not…" Kravitz said. 
Should Madonna stop preaching and look for a more credible coach like Spears?
She might try someone like Rachel Elior, a professor of Jewish philosophy and mystical thought, and chair of Hebrew University's department of Jewish studies.
At a recent lecture in LA Elior said, "The Kabbalah Centres today have nothing to do with the Divine Plan for hidden meaning of the text or with any of that. They are basically about selling books for people who don't read them…or for people who believe that by having a red string or drinking holy water they are connecting to the mysteries of the world."
Well, Britney Spears isn't buying it any more. And maybe her old mentor Madonna should consider dumping the "cult" too.